Welcome to the Student Life Staff Development page. The Student Life Staff Development committee posts upcoming events for Student Life staff, useful tips and information, and monthly spotlights on employees and teams. If you are interested in participating on the committee or have questions about our events please contact us.
Recent Posts and Staff Spotlights
2014-03-20 12:18:41
Educational block 1
How to Rock Being a Fabulous Trans* Ally as an Advisor: Policy, Process, & Peeing! (Alder Aud.) – Jen Self and Lor Anderson, Q Center
Come join us for a discussion about how to be a supportive and effective ally to transgender students on your campus.
Desk Yoga (Alder 105) – Gary Martin, IMA
Many of us do much of our work sitting on a chair at a desk. We focus on our tasks, and remain physically immobile for long periods of time. A simple and effective antidote may be to incorporate one or more 3–5 minute "Desk Yoga" practices into our daily schedules. In this interactive demonstration of Desk Yoga strategies, Gary draws upon his experience at a local athletic club teaching Chair Yoga designed primarily for people with a variety of mobility limitations. In his training for, and teaching of Chair Yoga, Gary learned how valuable it can be for anyone in any condition to take just a few minutes to move, breathe, and calm the mind. There is also the added benefit that we return to our work with increased alertness and creativity. 
Presenting Inclusively: Tips for Presentations to Reduce Accommodations (Alder 106)
AJ Duxbury – HFS
Universal Design for Learning is an approach that when applied to presentations or teaching, helps broaden the range of student learners able to easily understand the material, while reducing the need for accommodations for those with disabilities. This is easily applied to training sessions/presentations as well.
Enhancing the First- and Second-Year Student Experience (Alder 107) – Tina Wang and Patrick Chidsey, Career Center
Join the Career Center in a facilitated roundtable discussion on current efforts to support the first- and second-year student experience. Share and learn about high-impact programs/services/resources within the Division of Student Life and hear directly from student speakers about their experiences.
Educational block 2
Encouraging Linguistic Diversity in the Campus Community (Alder Auditorium) – Amy Smith, HFS
The global nature of the University of Washington brings with it a great deal of linguistic diversity in students who come to campus speaking regional or ethnic dialects, or who do not speak English as their first language. In a university setting where Standard English is required in the classroom, these students face unique challenges in confronting the popular notion that Standard English is "right" and their speech is "wrong." Even well-intentioned educators can fall into the trap of viewing non-standard speech as a deficit that needs to be corrected through a mastery of Standard English. However, like any other form of diversity, a student's native speech style ought to be considered a basic right, and linguistic diversity ought to be a celebrated part of the university community. The program goals are to help Student Life professionals understand how and why linguistic diversity exists; the discrimination and challenges that language minority students face, both on and off campus; and how Student Life professionals can play a role in creating a safe space on campus for linguistic diversity.
LinkedIn: For You and For Your Students (Alder 105) – Catherine Basl and Kimberly Petersen, Career Center
Join this lively discussion of how you can use LinkedIn to create a professional online presence and build connections for your continued professional development. Navigate LinkedIn Groups to find or share best practices and benchmarking information to improve services for students. Learn how LinkedIn can be a powerful tool for your students as they explore careers and search for jobs. *Content is geared toward all users.
Disability Resources for Students: Where We've Been, Where We're Going (Alder 106) – Jake Swanke, DRS
During this presentation, representatives from Disability Resources for Students (DRS) will share information and data that explores how the population of students with disabilities is shifting, the programmatic changes that DRS has made to better serve its student population, and what we can all do to better serve students with disabilities on campus. 
The Husky Experience: A Major and More! (Alder 107) – Dr. Jerry Baldasty, Senior Vice Provost for Academic & Student Affairs
As an initiative and an idea, The Husky Experience is becoming more focused. Come engage in the growth of this campus wide effort and explore how your work currently fits within, and may be be tailored in the future to enhance, the student experience, The Husky Experience.
Posted in:
Staff Development
Read more...
0 comments
---
2013-05-28 13:47:02
Spotlight on the University of Washington Police Department's PRIDE Bulletin Board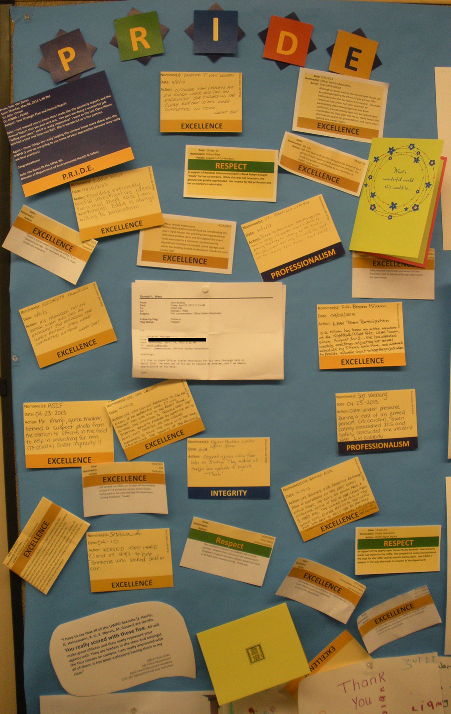 As part of the police department's internal communication plan, we wanted to find ways to effectively communicate good news across the department. Working in a 24-7 environment, projects, investigations and acts displaying excellence are sometimes only known by a particular shift. So the department created our PRIDE board. PRIDE is an acronym for our values (Professionalism, Respect, Integrity, Diversity and Excellence). This bulletin board is in the center of our police station, both literally and figuratively. Anyone in the department can nominate anyone else by using a PRIDE card and all cards are posted to the board. We also post thank you notes and emails from those outside the UWPD.
Our PRIDE board is about the UWPD values, which dovetail with the Student Life pillars. By recognizing those activities, actions and projects within the department that exemplify PRIDE, we encourage the best in ourselves and others, encouraging all to fully Engage by Caring about each other and the community we serve.
Since its inception little more than a month ago, the board has been very popular and we've been thrilled with the response across the department—we're all excited to nominate our co-workers, to stop by the board and read about the successes on other shifts and divisions within the UWPD, and to take pride in the good work happening throughout the department. Come on down to the PD and check out our board!!
Submitted by: Elizabeth Franklin, UW Police Department
Posted in:
spotlight
Staff Development
Read more...
0 comments
---
2013-02-21 18:06:08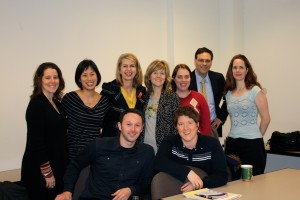 The Student Life Assessment Committee is comprised of representatives of all units within the Division of Student Life.
Assessment is one of those thankless tasks. But, when it is done and done well, it contributes enormously to well-managed and well-delivered programs, and ultimately to the benefit of student learning. These assessment nerds have been dedicated participants to the divisional goal of elevating the level of our our assessment practice.
The Student Life Pillars are probably more present in the assessment work than anywhere else. We are intentional about making sure that we are assessing each of our units' contributions to access, diversity, engagement, care, and student learning. Organizational effectiveness is often an outgrowth of a unit-wide integrated assessment program.
Every single unit in Student Life has advanced their work and operational knowledge of assessment. Some units have implemented large assessment programs, and some units have started by gathering a little bit of data. All of it matters to our collective effectiveness and our contribution to the student experience.
Krista Bennett (OFSL)
Diana Kramer (The Daily)
Deborah Costar (HFS)
Paul Seegert (Admissions)
Sean Ferris (SAUF/HUB)
Jennifer Self (The Q Center)
Elizabeth Franklin (UWPD)
Anne Swenson (Counseling Center)
Bree Callahan (DRS)
Ellen Taylor (Counseling Center)
Elizabeth Higgins (CSSC)
Briana Keller (Career Center)
Gary Leonard (Rec Sports Programs)
Sara Torres (SAUF/HUB)
Kay Lewis (Financial Aid)
Melissa Tumas (Health & Wellness)
Nana Lowell (OEA)
Tim Wold (Veterans Center)
Tina Miller (Registrar)
Posted in:
spotlight
Staff Development
Read more...
0 comments
---